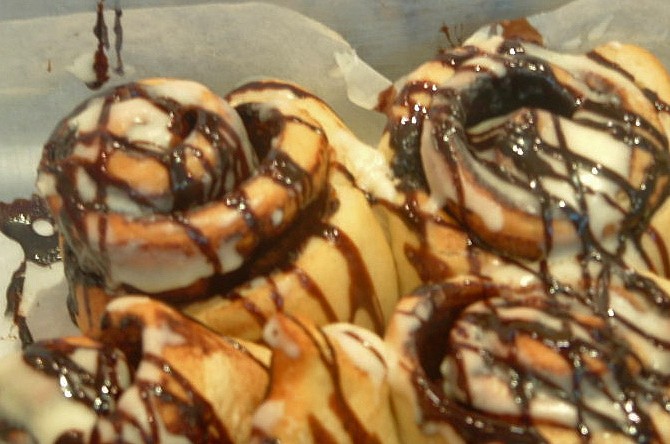 Nao taking a spinning class; NO! Nao making a getaway; YES!
Hiya guys, Fern again. Today is Tues 28th Sept and we are back at boarding school – yuck! In my last blog we were about to partake
in a heavenly feast; fortunately, an assortment of baked items that Philemon had stolen, sorry, stand corrected, taken, from goody's that Mama Joyce had baked for Noah, and I must add, also for Philemon. Well, Noah was still gutting fish so Philemon had to go back to their fishing shack to receive the pastries from Mama; he then discreetly hid some of the items for our midnight snack. I hope Mama Joyce never finds out – we will enjoy it but Philemon will have to run for his life! It's funny to watch Mama chase him – even though she is called 'big Mama', it is because she's as wide as she is tall – imagine, and I don't need to describe this scenario, but Mama and a rolling pin and Philemon, almost 6 foot in height; who do you think did most of the running? Our feast was amazing though – we stayed up all night, Philemon leaving just before dawn as he had to go fishing; we languished in bed until midday much to Mama's confusion and disgust.
I must say we all adore Mama Joyce; she can look fierce but she has the heart of an angel – she would give up her life for anyone of us. She is funny though as she always wears her hair closely cropped as the grey is growing rapidly. Anyway, at times, when she gets all dressed up for an important occasion she will put on her big wig or a big fancy, actually beautifully crafted, African hat.
Nao made the mistake of asking her, when she was sporting her wig, if she was trying to compete with her much younger, extremely disliked neighbour Blessing. Well, I hope you noted my heading – no, Nao was not taking a spinning class; her legs were pumping up and down for a totally different reason!
I mentioned that I would put up more photo's taken from our game-drive the other day.
This is one of the most gorgeous cheetah mom and her cubs.
Can you believe it, we have already been given home-work?? So off to work I go……..
Bye, Fern.