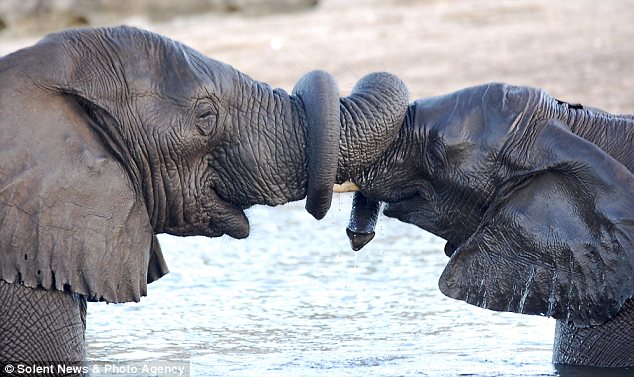 ELEPHANT LOVE – GREETING WITH ENTWINED TRUNKS

My question to you? How can anyone not believe in a God when we see His love portrayed in His Animal Kingdom?
My dad saw this photo of two elephants greeting each other in passing across a river -what an amazing display of love in greeting!
Some quotes you might enjoy:
'When you have got an elephant by the hind legs and he is trying to run away it is best to let him run.' ~ Abraham Lincoln
'Words are cheap. The biggest thing you can say is Elephant' ~ Charlie Chaplin
'Smelling isn't everything said the Elephant.' 'Why?' said the Bulldog, 'if a fellow can't trust his nose what is he to trust?' 'Well, his brains perhaps,' she replied mildly.' ~C S Lewis
'Natures great masterpiece, an Elephant – the only harmless great thing'~ John Donne quotes.
'I meant what I said and I said what I meant – An elephant's faithful, one hundred percent.' Dr Seuss quotes
'I have a memory like an elephant. In fact, elephants often consult me.' Noel Coward Quotes
Fern signing out…